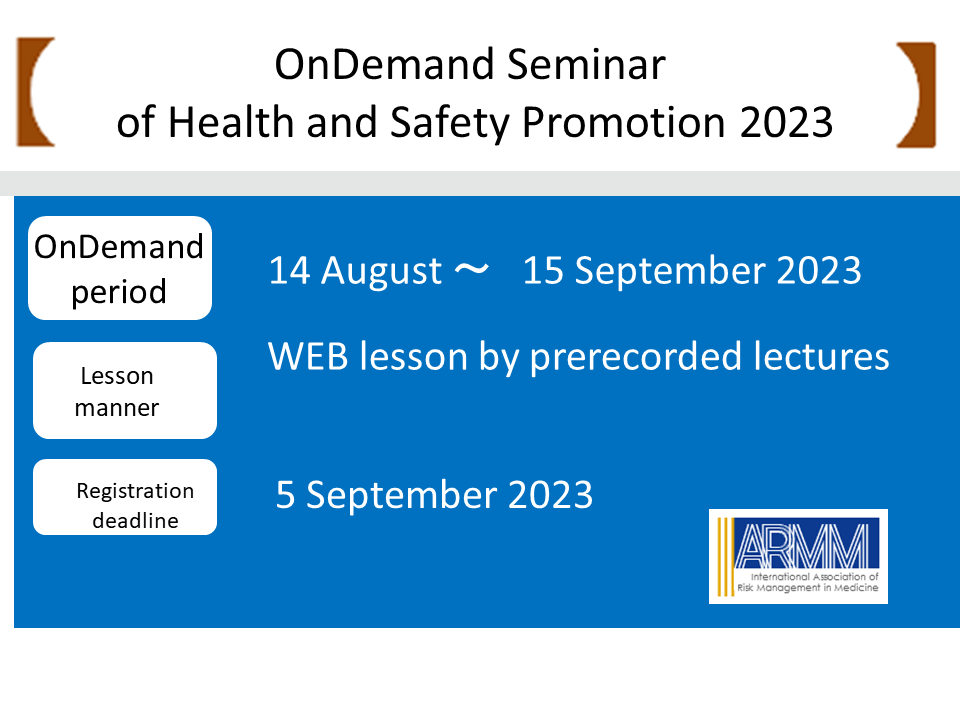 Held by:
International Association of Risk Management in Medicine (IARMM)
Cooperated by:
Medical Safety Promotion Organization (MSPO)
Official language: English, only
Tagert audience:
healthcare staff.
Discussion manner: When you have any question on our lecturer during the OnDemand period, email us (manager@iarmm.org) to transfer the reply to you.
Registration
Registration (online)
Registration Deadline:5 September 2023
Registration fee: 50 US$ (no tax)
Program
Medical safety promotion model 2nd edition (40min)
 Ryoji Sakai (President IARMM & MSPO, former Prof. EPFL, etc, Tokyo, Japan)
 (Lesson) Overviewing complexed and huge healthcare activities for patient safety promotion.

Safety promotion with resilience (40 min)
 Satoshi Fujii (Prof. Resilience Engineering Center, The University of Kyoto, Kyoto, Japan)
 (Lesson) Introduce safety promotion manner of healthcare with resilience science in disaster and patient adverse events.
Recommendation on medical harmful event investigations from forensic medicine (30 min)
 Masaki Q. Fujita (Prof. Forensic Medicine, Keio University School of Medicine, Tokyo, Japan)
 (Lesson) Introduce the forensic medicine procedures of patient adverse event investigation.
Patient safety promotion with resilience (40 min)
 Kyota Nakamura (Prof. Patient Safety, Yokohama City University Medical Center, Yokohama, Japan)
 (Lesson) Introduce new resilience approach for patient safety promotion.
Behavior analysis for patient safety promotion (40 min)
 Itoko Tobita (Prof. Nursing, Osaka Medical and Pharmaceutical University, Osaka, Japan)
 (Lesson) Introduce new behavior change procedure of health workers toward patient safety promotion.
Proposal of global sharing system of clinical information of Covid-19 pandemic (40 min)
 Takeya Tsutsumi (Prof. Dept. Infectious Disease, The University of Tokyo Hospital, Tokyo, Japan)
 
Participation Fee Payment Method
There are two ways to pay the participation fee. In both cases, payment must be made by September 5, 2023.
(Term condition) On a case of cancellation, registration fee is not refunded. When a delegate replaces with another person, email the request to the following office.
(1) Bank payment
In a case of bank transfer, send the following bank account.
 【Bank account】
   Bank name: Bank of Mitsubishi UFJ
   Branch name: Hongo Branch
   Branch number: 351
   Account name: IARMM
   Sift code: BOTKJPJT

(2) Credit Card Payment
In a case of credit card payment, please use our online payment system (PayPal Ltd).


Contact information

 IARMM World Head Office
 4-7-12-102 Hongo, Bunkyoku, Tokyo, 113-0033, JPN
 (TEL) +81-3-3817-6770 (FAX) +81-3-6801-6987
 (Email) manager@iarmm.org